Mediation Information for the disputant
The set-up and preliminary information is shown on the Process page. This page is for the party, the client in the litigation.
Procedures during the mediation
Now for the important part:  how the mediation will proceed.
Location:
Unless your attorney has made other arrangements, the mediation will be held at 1307 Second Street in Marble Falls. Even for cases that may be filed in counties other than Burnet and a little travel may be required, this neutral location in a comfortable facility is important to helping you to resolve your case. (details here).
Your Advance Preparation
You, the client, are the major participant in the mediation. The goal is to have the parties come to a compromise agreement.  Nobody is going to tell you what to do — not your lawyer and not the mediator.
So think about your case and make sure you have worked with your attorney in advance. Be prepared with the facts and documentation that may be helpful in arriving at an agreement.  Also review the forms that will be required of you. They are available on this web site and you should carefully review the ones relevant to your type of case before you come to the mediation.
First, I will do everything within my power to help you — the litigant — to become comfortable with the idea that you are in a safe environment. I am neutral and will remain so during the entire process.  What goes on in mediation stays in mediation (apologies to Las Vegas) except for the final agreement. Additionally, I will hold in confidence anything that you ask to remain confidential.
What is mediation?
What, generally, is mediation all about?  It is first important that you understand that while I am a retired judge, I will not be acting as a judge. As your mediator I will be the missing ingredient — the catalyst for all of the participants to forge channels of communication between the participants.  This process occurs in conjunction with the attorneys and with their assistance. Results can be accomplished at far less cost than litigation and in an efficient manner. This is possible because the participants are in a self-determined mode to more quickly discover possible settlement options and benefits, in a way that is impossible in a court environment.
Mediation is non-adversarial. It is a process rather than a set of stiff rules such as you encounter in court. The format of the mediation will be somewhat informal with the ability to be flexible enough to react to an evolving conversation.
Think on this approach to negotiation and settlement:
Negotiations Made Easy
Understand their interests.
If necessary, change the rules of the game.
Prepare your strategy, tactics & negotiations communications
Understand your "BATNA"1 – test theirs.
Negotiate with results and relationship in mind; create an enduring agreement.
Remain "principled" with commitment in all of the above.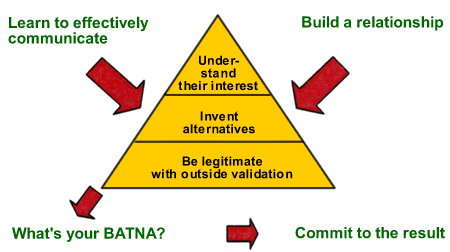 (Text and image used with permission from Brian Babcock of Babcock Business Strategies — www.brianbabcock.com)
Logistics
I may initially meet with each side separately. That may be helpful to get acquainted, determine what additional information I need, or just discuss your concerns. You will be asked to sign an Agreement to Mediate and fee arrangments will be settled if not already taken care of.
We may move to a joint conference, and sometimes will start in a joint conference where you may expect to have the opportunity to tell your story in an uninterrupted and respectful manner. Each side will have this opportunity and you will be encouraged to listen carefully when the other side speaks. I will work with the sides to understand their respective issues, to explore possible zones of agreement, and to test varying modes of settlement.
We may move back to a caucus procedure or stay in joint session as the circumstances dictate. Mediation is a fluid process.
What will I do? I will suggest alternatives, analyze issues, question your perceptions, use logic, conduct private caucuses, stimulate negotiations between opposing sides, and keep order. I will attempt to bring clarity to each party's understanding of the issues, facts and data, and the position of opposing sides.
There may be times that I need to visit privately — that is in a "caucus" — with one party at a time. I always remain neutral and will spend private time with each party as may be necessary in the process. It is in those private sessions that you may share confidential matters so that I can assist you in fully understanding aspects of the case that may be a barrier to resolution.
Written agreement
When an agreement is reached, and I say "when" because most mediations result in a settlement, the agreement is put in writing and signed by all parties and counsel.
ENFORCEABLE IN COURT
It is important that you know that the agreement is binding, cannot be revoked, and is enforceable in court. A judgment can be entered by the judge based on that agreement.
My activities in summary
I will:
 Be impartial.
 Suggest alternatives.
 Have private meetings or caucuses with the attorneys, parties, corporate representatives, and claims professionals.
 Assist in clearly identifying the issues.
 Privately debate each side's logical basis and perceptions.
 Respect confidential and/or privileged information.
 Allow the parties to negotiate.
 Guide the parties and counsel in finalizing a specific settlement agreement.
I will not:
 Act as a judge or arbitrator.
 Rule upon questions of fact or law.
 Render a decision or award.
 Hear testimony.
Detailed Rules for Mediation
Please review the following document for more details about the process:  Rules for Mediation
What Is Mediation?
Mediation is a confidential process used to resolve conflicts in an amicable manner. An impartial mediator directs the process and facilitates the communication between the parties in an effort to explore solutions and obtain a mutually satisfactory agreement.
Mediation Objectives
The objective of mediation is for parties in conflict to participate in good faith in a dialogue regarding their dispute, to present their points of view and to explore options for settlement in an effort to reach a mutually satisfactory resolution of their dispute.
What Happens in Mediation?
The mediator welcomes the participants and explains the mediation process, the mediator's role in the process and the rules of mediation. The participants present the issues they want to resolve, explore their interests and options and look for a mutual resolution. If the parties reach an agreement and sign it, this agreement may have the validity of a contract.
The Mediator's Role
A mediator is an impartial third party who is trained to listen to the parties, clarify the parties' issues and facilitate communication to help the participants negotiate in a flexible, private setting.
Cases Appropriate for Mediation
Conflicts between neighbors, families, merchants and consumers, landlords and tenants, employers and employees and other disputes are appropriate for mediation.
Mediation Benefits
Mediation is voluntary, flexible, economic, fast and confidential. If an agreement is reached, everyone wins.
For more information about mediation in Texas (YouTube video):
Stuck in a Dispute? – You Need to Mediate This!
TAM's video series about mediation on YouTube
Best Alternative To Negotiated Agreement ↩