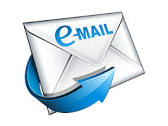 Amazing, I think back to January 1, 1997 when I first took the bench as Judge of the 33rd Judicial District of Texas and no lawyer in the five counties 1 was using email. No lawyers had web sites. Possibly the Llano District Clerk had a web site but I'm now sure about that.
Email addresses are now required of all lawyers practicing in Texas. How far we've come. It's a good thing. From a recent notice from the Office of Court Administration (sent electronically!) we learn:
Miscellaneous Docket No. 16-9095 amends Articles I, III, IV, XIII, and XII of the State Bar Rules, effective immediately. The amended rules require every member of the State Bar to provide the Bar with an email address for electronic service by October 1, 2016. The addresses will be used for electronic service through the statewide efiling system and for notices to members from Texas courts. The amended rules also authorize: * * * *
The local Bar would often tease that I was dragging them kicking and screaming into the 20th Century. Then came the 21st Century. And here they are.
Praise the Lord and pass the biscuits!  🙂
Burnet, Blanco, Llano, San Saba and Mason ↩